I made this how to for my message board so some things may not apply on here but it will give you a general idea about how to use some of the features like in message posting and posting a picture in a message
If these tutorials I've made don't answer your questions be sure and check out the FAQ which is linked up in the menu.
http://oklahomariders.com/forums/faq.php
Posting pictures in your message:
Pictures must be hosted on the web somewhere. I use
http://photobucket.com/
to host pictures for stuff like this because they are easy to use and they are free. You can upload your pics to there and the tags and links are all right with your picture to paste in a message. For a
tutorial on using Photobucket click here
You can not paste pictures that are stored on your hard drive. Also make sure the link you paste in here ends in.jpg or .gif The picture pretty much explains it. Also you need to make sure the tags [img]and[/img] are right next to the link.. no space between them and the link.
Warning:
You can not have any spaces in the link or %20 in the address. the server doesn't recognize this and doesn't know how to handle it.
Code: Select all

Will Work:
http://www.oklahomariders.com/help/Picture_Posting.JPG

Wont work:
http://www.oklahomariders.com/help/Picture Posting.JPG
or
http://www.oklahomariders.com/help/Picture%20Posting.JPG
Starting a new Thread
If you want to post something that doesn't fit in an existing thread, start a new topic. I have noticed a few people posting on threads when starting a new one would be more appropriate with a different subject.
Showing New Messages
In order for you to see what messages have been posted since the last time you were on here you will need to be logged in. Once your logged in you will see
This means there are new messages
This means there are no new posts.. (time for you to post something)
Using the posting/reply features.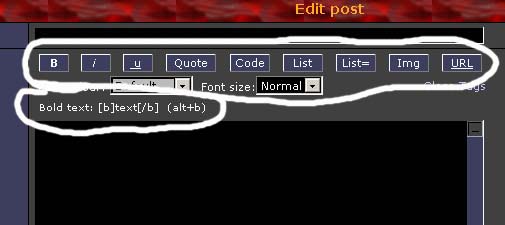 In the above picture is the buttons in your reply or new post form. I am just going to explain what the buttons are for and how to use them.
All buttons will have to have the text highlighted before you push the button just like you do with putting images in your post.
If you hover your mouse over a button it will show you what it should look like when you finish using the feature. This is shown in the bottom white circle.
the way i use the button is I type in what i want URL or link to a picture or whatever and then highlight it in my message. Then click the button you want to use on it (img, url etc.) and it will automatically set the appropriate tags.
the first button, the B button is for the text in your message to make it in Bold like so
the slanted i is for Italics and works like the bold button
the
u
is to underline a
word or sentence or whatever you want
.
The Code Button allows you to put in these codes in a message and have them look as they do when you are typing them in a message. teh img, url and otehr codes that i am showing you do now work when inside the code tags.
the list button... well to be honest i dunno what its for, never used it.
(its been a year since I made this tutorial and I still have never used it lol )
The Img button is to insert an image into your message. You can insert any image that is hosted on the web provided it is in a supported format. the address for the image will need to end in something like .jpg or .gif You cant paste the address for the pictures hosted in the personal galleries on this website, if it doesn't end in a graphic file its not gonna work.
Note:

Do not use .bmp files (if at all possible) as they are usually huge files and are slow loading.
http://www.volusiariders.com/album_pic.php?pic_id=9578
will provide a link to the picture but it wont put it in your message.
An example of an address that would work would be:
http://members.provalue.net/kc5gjn/images/quoteedit.jpg
URL
if you use
URL
button you can put a link in a word or sentence so you don't have to paste the link out there.
here
is a picture of one of the samples I used above. Notice the word "Here" is a link.
this is what it would look like in your message
Code: Select all

[url=http://members.provalue.net/kc5gjn/images/quoteedit.jpg]here[/url] is a picture of one of the samples I used above. Notice the word "Here" is a link.
The Quote Button will allow you to put something in quotes that you might have copied from another post. If your wanting to quote from a reply in the message your currently reading you can use the quote button on the right side of a message and it will bring up a reply box with the a quote already set up in your reply. you don't have to do anything. The Edit button in the picture only shows up in a message that you posted. That allows you to go back in and change what you wrote.
I think I have told you everything i can think of to explain how do make things happen on this board but if you have any questions feel free to ask.
I will be updating this thread as questions arise. Check back here when you have questions to see if they have been answered.